Top 9 Web Design Trends in 2021 You Don't Want to Miss
Updated: Mar 9, 2021
By Jenna Romano & Adi Huri
When you create a website, meditate on this: you've got one chance to wow your visitors with a good first impression. The web is overflowing with stimulating information, and your website needs to stand out in order to grab viewers' attention. Most importantly, it needs to keep them engaged so that they consume your content.
Regardless of your industry, you'll want to follow the golden rules of website design: make it easy to use, aesthetically pleasing and include all the relevant information needed to tell your story. Above all, don't forget that your website design process should be inspiring. And what better way to draw inspiration than by looking at the influential world of web design around us?
We keep our eye on web design trends year after year for exactly that purpose. Web design in 2021 will push the boundaries of the past. A culmination of the freedom made possible with intuitive tools and innovative technologies - this is a year for originality, new solutions, aesthetic extremes, and responsive design.
Look around, get inspired, and muse on the following web design trends to make a website that truly stands out in 2021:
01. Asymmetric layouts
Your website's layout forms the structure for arranging visual elements. Symmetry is the obvious default - it thrives on order and stability, so a symmetric layout almost guarantees your website will make sense. That said, the design world has never been one to shy away from asymmetry. Asymmetric layouts present a different set of advantages: the results are more dynamic and daring, and they give you more freedom of design. It's a common misconception that asymmetry is synonymous with a lack of balance, so don't let an asymmetric website layout discourage you. Every website can have visual balance regardless of symmetry. Visual harmony can be achieved with an asymmetric design by imagining the weight of each item on your page. Take into account the color, size and movement of your elements before you arrange the composition. If you need help mastering this web design trend on your site, you can always choose a website template that uses an asymmetric layout.
02. Minimalist or maximalist extremes
2021 will see a web full of extremes. Minimalism and maximalism have both had their time in the individual spotlight, but this year it looks like they'll be sharing the stage. Minimalist web design thrives on simplicity, stripping away excess design elements. But the less-is-more approach can still make a strong impression on audiences. When these principles are applied correctly to your website's design, they can reap attractive results that are supported by an easy user experience. Maximalist website design is a whole different story. In the wake of an obsession with brutalist websites - a youthful design trend which exhibits a lack of concern for comfort and order - we're seeing leftover sentiments played out in less aggressive ways. Maximalist website design in 2021 will emphasize a no-holds-barred approach that values creative expression over order.
"The more the merrier is the idea this year. Don't be afraid to add effects, videos, vector art, animations and unexpected layouts whenever you can. Use design to enhance the spots where you want the most attention on your website. If that's not for you, minimalism is here to stay, and maybe that approach can be your champion."
- Adi Huri, Product Marketing Lead, Wix Editor How can you win with a maximalist design in 2021? Incorporate details like font variation, bigger typography, overlapping visuals, layers, and floating elements - just to name a few. The benefit of embracing this trend is that it inspires more freedom and less limitation when it comes to conveying your ideas. The challenge is making sure users don't get overwhelmed.
03. Videos as design elements
Videos are almost ubiquitous in website design. If you have promotional videos or interviews to add to your site, they're a great way to engage your audience by communicating important information with an energetic flare. In recent years, videos have taken on a new role in web design - shifting away from being purely informational and turning into design elements in their own right. How? We're glad you asked. Thanks to the ceaseless development of new technologies, videos can be incorporated into your website's design in new and exciting ways. Tools like VideoBox allow you to add layers and choose how to play your videos - for example, playing automatically, on a loop or slo mo. One of the most exclusive VideoBox features is the revolutionary Video Mask, which enables you to crop videos into eye-popping shapes and unique designs. This can be used to add floating elements to your website, creating movement and excitement. Wix's transparent video is an exclusive feature that overcomes the limitations of traditional MP4 streaming. Videos are typically limited in their ability to form transparent backgrounds while maintaining high quality, but this innovative solution proves that's an issue left in the past. The rich collection of transparent videos was created by professional creatives from around the world, and can be customized and placed anywhere on your site to add a touch of personality.
04. Vector art
Adding unique graphics to your website is always a good way to embellish your site. Including graphic images shouldn't mean sacrificing quality and loading time, but this is often a challenging reality in web design. Vector art presents a practical solution to this. The SVG format of the files allows users to scale the visuals according to their needs, while maintaining the quality of the original graphics. The availability of thousands of vector art files (which are customizable, too) leads us to predict that web design trends in 2021 will see the increasing presence of these incredibly fun illustrations. Whether you go for a maximalist or minimalist design - or something in between - you'll likely find the SVG file you desire. If not, you can always upload your own.
05. Shapes and abstract designs
Abstract designs and arbitrary shapes will have a strong presence in websites this year. You might think shapes are too basic to be considered a design element in their own right, but basic forms can act as small visual accessories. Simple shapes can be pinned to your screen or used as a background in order to add a splash of color, create balance, frame content, or help your text stand out. On a similar note, abstract illustrations are also in vogue right now. By conceiving your own abstract composition and adding it to your website, you can strengthen your unique brand identity. Incorporate your brand colors and visual style while bringing together shapes and abstract design to form up-to-date representations of your brand.
06. Animation


Animation has been a popular feature of web design in recent years, and it's here to stay. That's a good thing, because the possibilities of web design animation keep getting better.
Animation turns the user experience into so much more than just scrolling for information. From an animated line or text to a full fledged animated background, these effects can work on your website to catch the eye of a visitor and make a striking impression.
While your objective might be purely aesthetic, keep in mind ways that animation can also entice users to take certain actions - drawing their attention to exactly where you want it to be. One example is trigger animation, which is when a user's action can alter the appearance of an element, changing details like its color, shape or speed. Let's say you apply trigger animation to a call-to-action button - the chances of a user clicking on it go up when they're intrigued by its unique behavior.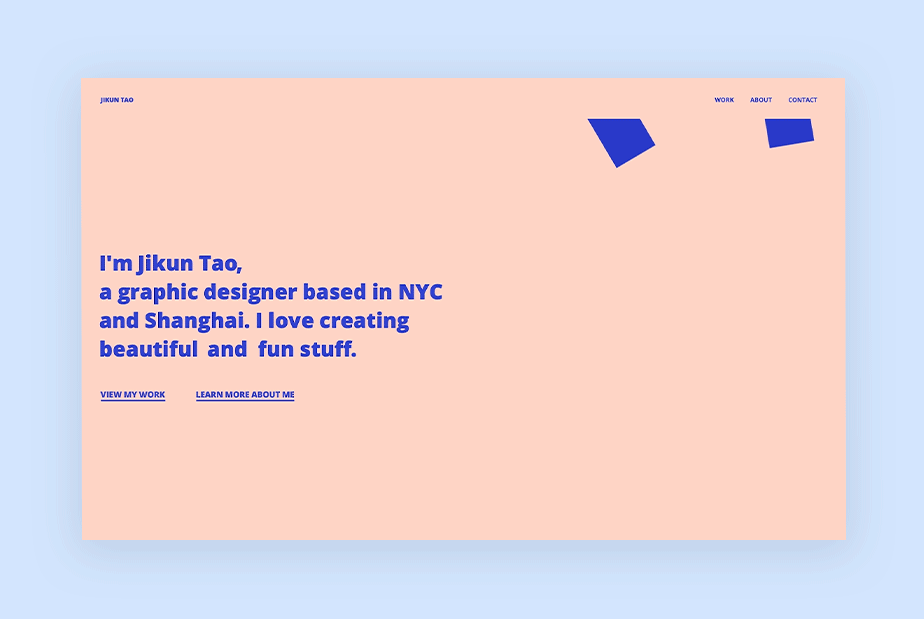 07. Black and pastel colors
We spend a lot of time looking at our screens these days, so it's no surprise that in 2021 we'll see more website designs that attempt to manifest a calming presence. One way we'll see this trend played out is with pastel website color schemes. The muted effect of pastel tones provides visitors with a delicate experience. There are plenty hue variations in the pastel family, so you'll have no trouble mixing together cozy color combinations that are unique to your site. Other websites will head in a different direction in 2021, implementing black color schemes into the mix. The general attitude towards dark websites is that it creates a sleek, classic aesthetic. In 2021, it's about more than just appearances. The added value of this is that black color schemes - similar to pastels - are easy on the eyes. Should you choose to design your site in this style, you can stick to a minimalistic scheme - using strictly black and white elements. You can alternatively go for an exciting contrast, adding bright colors to highlight different elements of your site.


08. Accessibility


Accessibility is the practice of making your website usable for as many people as possible. More than just a trend, designing a website that individuals with disabilities can navigate is a sign of good customer service. Nearly 1 billion people in the world rely on accessibility features to navigate the web - more than ever, website designers are paying attention to this aspect of user experience.
From a design perspective, visual elements like strong contrasting colors, large texts and clean-cut imagery will make your website easier to navigate. On the back end, adding alt text to your images will provide relevant information to users who can't see properly.
Being inclusive also helps improve a website's design strategy. For example, if the alt-text descriptions of images don't add value to the context of the page, that may be a sign that the image itself doesn't belong. Reassessing images in this way can further strengthen the page's message and improve overall usability.
09. Scroll effects
Since the emergence of parallax scrolling in 2011, we've realized just how much interactive value a riveting scroll effect (or two, or three…) can add to a website. Fast forward to one decade later, and we're still expanding on the capabilities of this subtle art in order to give visitors a fun and sleek browsing experience. Scrolling involves participation, transition and interaction. Each of these actions can be amplified by combining the elements of your site with dynamic scroll effects. Scroll effect possibilities include (but are not limited to): zooming in or out of images, horizontal scrolling, and implementing thrilling transitions from one section to another. Parallax scrolling might be the most popular of these. This technique involves slowing down the pace of your background as a user scrolls through a quicker-paced foreground, resulting in the illusion that it's three dimensional. Needless to say, keeping up with the design trend will ensure that your website is anything but boring.
"We're living in a time of radical change, and human nature compels us to improve and adapt through design. The new lifestyle brought on by the pandemic is strange for all of us — we've shifted the way we live, think and consume information. We spend more time on the internet, and it's become more competitive to gain attention online. As a result, we're forced to redesign the way we think, plan and experience website creation."
- Adi Huri, Product Marketing Lead, Wix Editor
Image Credits Featured Image: WIX
Article By:
Jenna Romano - Blog Writer
Adi Huri - Product Marketing Lead, Wix Editor
Article can be found on Wix Blogs at the following link: https://www.wix.com/blog/2020/12/web-design-trends/
#blog #wix #seo #webdevelopment #webdesign #webbuilder #ecommerce #ecommercewebsite #salesandretail #businessandmanagement #onlinemarketplaces